POST COLONIAL ECOLOGIES
---
STRANGERS IN OUR OWN ART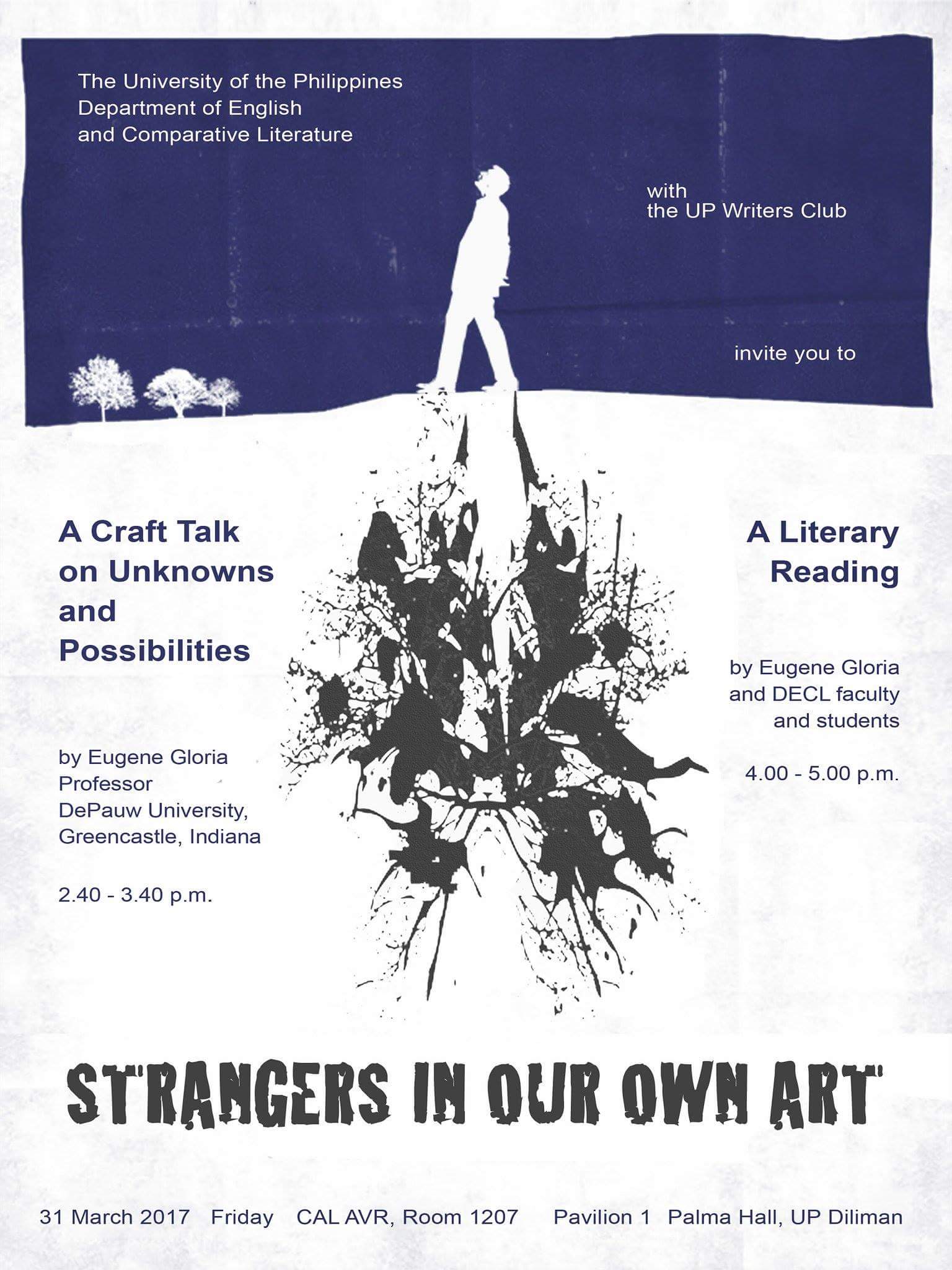 ---
CALL FOR PAPERS
The Journal of English Studies and Comparative Literature is now accepting papers for its upcoming issue. The deadline is on March 31, 2017. Please refer to the poster below for the submission guidelines.
---
THE 2017 AMELIA LAPEÑA-BONIFACIO LITERARY CONTEST
---
WE'RE HIRING
The Department of English and Comparative Literature of the University of the Philippines Diliman is now accepting applications for teaching positions for academic year 2017-2018.
Please submit:
a letter of application,
two (2) letters of recommendation, and
your latest academic records
Deadline of application: March 15, 2017.
Please address all letters to:
Dr. Lily Rose R. Tope
Chairperson
Department of English and Comparative Literature
College of Arts and Letters
University of the Philippines
Diliman, Quezon City 1101
---
INTENSIVE ENGLISH PROGRAM
---
WRITERS IMMERSION AND CULTURAL EXCHANGE (WrICE) WORKSHOPS
On January 31, 2017, from 9 AM to 8 PM, the writing fellows and participants of the WrICE program of the RMIT University in Australia will be hosting a one-day writing workshop for fiction, poetry, and creative nonfiction. The workshop is FREE but interested participants need to sign up in order to indicate their attendance.
The Writers Immersion and Cultural Exchange Program (WrICE) is a program of residencies, workshops and events, building an international network of writers and writing to foster intercultural conversations, celebrate cultural diversity, and change the stories we tell and listen to.
Please sign up for the workshop at the Department of English and Comparative Literature (DECL), Room 1120, Pavilion 1, Palma Hall, University of the Philippines, Diliman, Quezon City. Attendance is free. First come, first served. SLOTS ARE LIMITED.
---
PROFERNALIA 2016
---
TO OPEN ALL CLOSED THINGS
In celebration of National Artist for Literature Francisco Arcellana's birth centennial, the University of the Philippines Department of English and Comparative Literature, with Likhaan: the UP Institute of Creative Writing, invites everyone to "To Open All Closed Things," on 09 September 2016, 10 a.m. to 4:30 p.m. at Palma Hall Pavilion 1, Room 1131, UP Diliman, Quezon City.
The day-long event will feature paper presentations about the life-work of the late National Artist, as well as a tribute by those who knew him best, former students, friends and family members.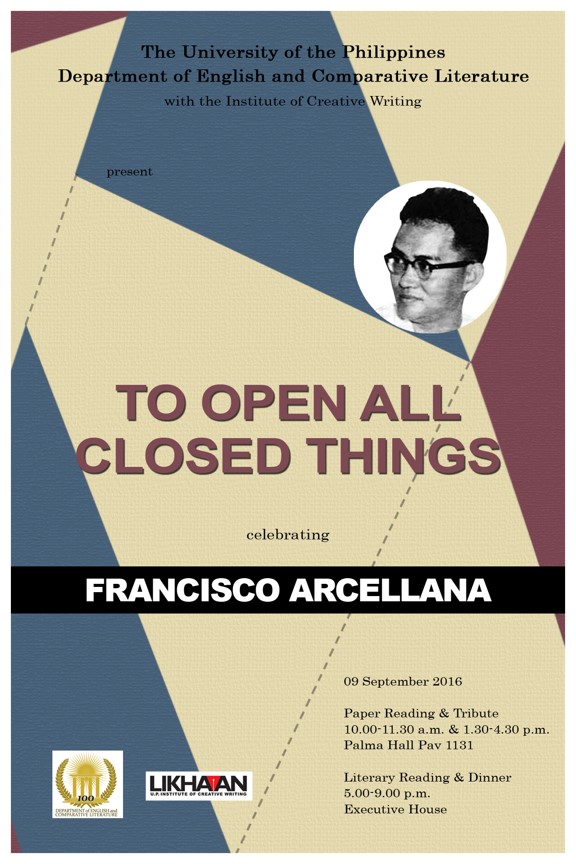 ---
RESULTS: QUALIFIED DECL TRANSFEREES
To download the list of transferees who passed the undergraduate admission examination given on July 07, 2016, kindly click this link.
---
CONGRATULATIONS TO THE WINNERS OF THE 2016 AMELIA-LAPEÑA BONIFACIO LITERARY CONTEST!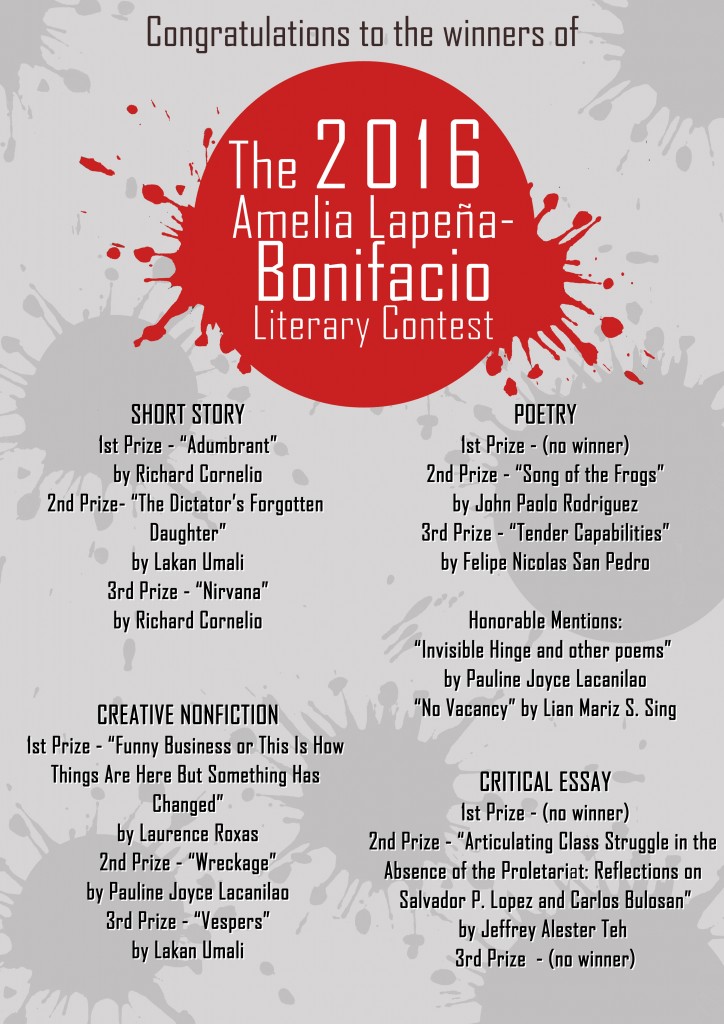 ---
INTENSIVE ENGLISH FOR FILIPINOS
The Intensive English Program is the only short course currently being offered every semester by the Department of English and Comparative Literature. The program strives to address the communication needs of Filipino professionals from various fields through review and practice of speaking and writing skills in the professional/business context.
CALL FOR SUBMISSIONS: LIKHAAN JOURNAL 10
The UP Institute of Creative Writing (ICW) is now accepting submissions for the tenth issue of Likhaan: The Journal of Contemporary Philippine Literature.
The Philippines' leading literary peer-reviewed journal, the Likhaan Journal is published annually with funding from the University of the Philippines. It features the best of new and unpublished Philippine writing in English and Filipino. Submissions to the journal undergo a strict pre-screening and blind refereeing process by both the editors and a panel of referees composed of eminent writers and critics from within and outside UP.
UP Press director, award-winning writer and critic J. Neil C. Garcia will be the issue editor, while award-winning writer and current ICW director Jose Y. Dalisay, Jr. will serve as associate editor for the issue.
The guidelines are as follows:
1. For its tenth issue, Likhaan: The Journal of Contemporary Philippine Literature will accept submissions in the following genres, in both English and Filipino:
Short stories ranging from about 12 to 30 pages double-spaced, in 12 points Times Roman, New York, Palatino, Book Antique, Arial or similar fonts. A suite of short prose pieces will be considered.
A suite of four to seven poems, out of which the editors might choose three to five. Long poems will be considered in lieu of a suite.
Literary and personal essays, including memoirs, profiles, etc., subject to the same length limitations as short stories (see above).
Critical/scholarly essays, subject to the same length limitations as short stories (see above).
Excerpts from graphic novels, or full, short graphic stories, for reproduction in black and white on no more than 10 printed pages, 6" x 9." Excerpts should be accompanied by a synopsis of the full narrative.
2. All submissions must be original and previously unpublished.
3. All submissions must be accompanied by a cover letter (including the author's contact information) and a biographical sketch of no more than one or two short paragraphs.
4. Submissions may be e-mailed to likhaan.journal10@gmail.com, or posted to The Editors, Likhaan Journal, c/o The University of the Philippines Press, E. de los Santos Street, UP Campus, Diliman, Quezon City 1101
5. For submissions sent via e-mail, please use the following subject line and filename format: [Language], [Genre], [Title], [Author's Last Name]. For example: English, Fiction, "The Life," Aquino. The attachment should either be a .DOC, .DOCX or .RTF file.
6. All submissions should be received (whether by e-mail or post) no later than May 30, 2016.
7. All submissions will undergo a strict pre-screening and blind refereeing process by the editors, and a panel of referees composed of eminent writers and critics from within and outside the University of the Philippines.
8. Writers whose work will be accepted for publication will receive a substantial cash payment and a copy of the published journal.
9. The editors reserve the right to edit any and all materials accepted for publication.
10. The editors may also solicit or commission special, non-refereed articles for publication outside of the aforementioned genres and categories to enhance the editorial content and balance of the journal.
Previous issues of the Likhaan Journal are available for download as PDF file at http://journals.upd.edu.ph. Please direct any and all inquiries to the managing editor, Gabriela Lee, at likhaan.journal10@gmail.com.
---
RULES AND REGULATIONS FOR THE 2016 AMELIA LAPEÑA BONIFACIO LITERARY CONTEST (SHORT STORY, POETRY, CREATIVE NONFICTION, AND THE CRITICAL ESSAY)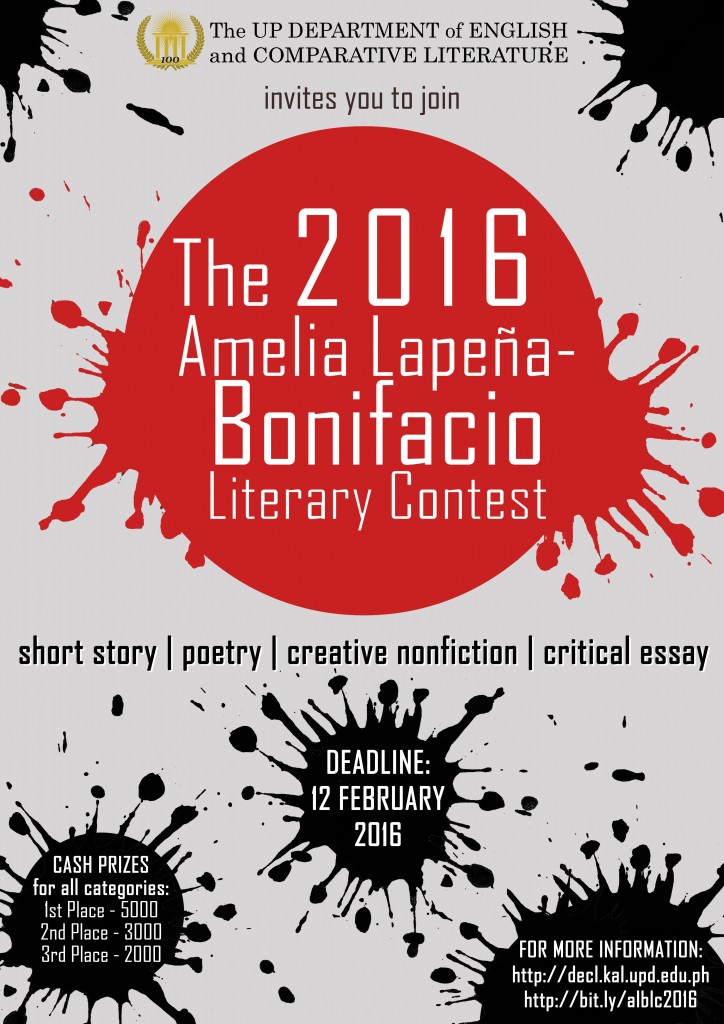 The contest is open to bona-fide undergraduate and graduate students of the University of the Philippines Diliman enrolled in the 2nd semester of AY 2015-2016. The contest is not open to faculty members of the English Department.
Authors may submit not more than 2 entries in each category.
The author must submit the following documents in a sealed long brown envelope: (a) one (1) original and three (3) copies of his/her entry, without author's name; (b) on a separate sheet of paper, the author's full name and contact information; and (3) a photocopy of his/her Form 5 for the 2nd semester AY 2015-2016. The title of the entry and the category should be written or typed on the envelope.
Only unpublished works may be entered.
Only works which have not won a prize in another contest may be entered.
In the short story category, an entry must be not more than 20 pages in length.
In the poetry category, an entry must consist of at least 5 poems.
In the creative nonfiction category, an entry must be not more than 20 pages in length.
In the critical essay category, an entry must be not more than 20 pages in length.
All entries must be written in English.
Entries may be on any subject or theme, except for the critical essay the topic of which is limited to Philippine literature in English.
The author shall retain ownership of the copyright to his/her award-winning work. However, the sponsor shall have the right to first publication. Editors designated by the sponsor may edit portions of the work to suit the demands of publication.
The prize will be withdrawn from any author found to have plagiarized his/her winning entry entirely or in part.
Entries must be addressed and submitted to Dr. Lily Rose R. Tope, Department of English and Comparative Literature (DECL), Bulwagang Rizal, UP Diliman not later than February 12, 2016.
All entries should be typewritten or computerized, double spaced, on 8½ x 11 inches bond paper, with one-inch margin on all sides. If computerized, the font must be Arial or Times New Roman and the font size 12.
The Board of Judges shall have the discretion not to award any prize if, in its judgment, no meritorious entry has been submitted.
The sponsor has the sole right to designate the persons who shall constitute the Board of Judges in each of the categories.
The names of the winners and the names of the Board of Judges shall be announced towards the end of February 2016.
All parties submitting an entry are deemed to have accepted the rules of the contest, and agree to abide thereby.
---
CALL FOR PAPERS: THE 16TH BIENNIAL SYMPOSIUM ON LITERATURE AND CULTURE IN THE ASIA-PACIFIC REGION
The Forbidden
What is considered illegal, unethical, subversive, sinful, or politically incorrect? What aren't we allowed to do, say, or think? Which spaces are closed to us? How have we infiltrated these spaces and crossed these lines? Who are we crossing? Can we assume that "the forbidden" is indeed an objective or stable category, or can we discuss the line between the acceptable/permissible/moral and the transgressive/unethical/deviant as being contingent on other factors?
Because so many standards, codes, traditions, and conventions must be renegotiated, from ancient times to the digital age, such questions are especially difficult to answer. Both online and offline, new boundaries are simultaneously being set, tested, and crossed. Especially in this time of profound change, very little is off limits. At the same time, these once-forbidden sites, practices, and behaviours constitute territory that authorities are struggling to control and monitor even as it fends them off.
While all literatures explore the forbidden, this Symposium seeks to investigate its implications specifically for the literatures, cultures, and perspectives of the Asia-Pacific region seen by scholars on and in the region. It invites research on impropriety in all its forms, from mischief and rule-breaking to crime, sin, and subversion. It also celebrates writing itself as a dangerous or deadly habit, a form of deviant behavior, infiltration, or transgression.
Paper topics include but are not limited to:
Subversive/transgressive literature and misreading
Crime narratives: detective fiction, noir, psychological thrillers, postmodern mystery, true crime
Forbidden love: extramarital affairs, incest, paedophilia, man/machine/vampire/zombie/beast
Erotica/Porn studies
Abjection, taboo, fetish
Literature and the occult
Literature in the time of terrorism
Banned books and/or censorship
The black market: fraud, forgery, theft, piracy
Taboo in the academe
Forbidden language
The politically incorrect
Errancy and sin in literature
Forbidden geographies/spaces in literature
Science and transgression
Conference Details
Dates
November 19-21, 2015
Venue and Transportation
The symposium will take place in three universities in Manila, each with its own flavour and atmosphere. The three universities are also recognized as centers of excellence for Literature. The first day will be at the University of the Philippines in Quezon City, the second day will be in De La Salle University in the heart of Manila, and the third will be at the Ateneo de Manila University in Quezon City.
Registration for Paper Readers
The registration fee is 100USD/4300PHP. This covers morning snacks, lunch, and afternoon snacks for the duration of the conference and a conference kit.
Payment details will follow.
Paper proposals
Please send a 200-word abstract of your paper by email to the symposium convenors at lcap16@up.edu.ph on or before June 30, 2015. Abstracts should be in Word format and should be sent as an attachment. A registration form will be sent to those whose abstracts will be accepted.
Notifications of acceptance will be sent by July 15, 2015.
Literary Readings
Literary reading sessions will be held at the end of each conference day. Please indicate in your registration form whether you are interested in participating in these sessions.
Recommended Hotel
Microtel Inn, UP-Ayala Technohub (http://www.microtel-uptechnohub.com), offers a special conference rate to participants in the symposium (USD75/night). It is located along Commonwealth Ave, Diliman, Quezon City, near two of the university conference venues. Shuttle buses will be provided between this hotel and conference venues.
Microtel is a green hotel, with rooms that overlook a triangular garden. Rooms and facilities are at par with international standards, including chiropractor-approved mattresses, cable TV, and wireless internet access. The hotel also features a restaurant with an al fresco patio, and is right next door to the UP-Ayala Technohub's complex of restaurants. It is also close to an array of key landmarks in the area, including UP, churches, dining spots, and shopping malls.
Book through Alyssa Fagutao affagutao@microtel.ph, subject heading your email: "LCAP16 Manila Booking."
Convenors
Lily Rose Tope, University of the Philippines
Dinah Roma, De La Salle University Manila
Danilo Francisco M. Reyes, Ateneo de Manila University
You may download a PDF copy of the call for papers here.
---
CALL FOR PROPOSALS: "AGAINST THE GRAIN: DISSIDENCE, DISSONANCE, AND DIFFERENCE IN ASIA-PACIFIC WRITING AND TRANSLATION"
The Asia Pacific Writers and Translators (APWT) with the University of the Philippines (UP) and the National Commission for Culture and the Arts (NCCA) extend an invitation for presentations in the 8th International Asia Pacific Writers and Translators gathering to be held in Metro Manila on 22-25 October 2015. Sponsors include De La Salle University, University of Santo Tomas, the British Council, Ateneo de Manila University, and Anvil Publishing. This gathering offers a space in which to establish new literary connections and strengthen existing ties in the Asia Pacific region but not limited to it.
The Sri Lankan-born Man Booker Prize finalist Romesh Gunesekera, and Philippine writers Jose Dalisay and Cristina Pantoja Hidalgo, are invited keynote speakers.
The APWT gathering will consist of panel sessions of 70-90 minutes, each allowing four or five presentations on topics of interest to writers. Panels on translation are also very welcome. Presentations should be informal but thorough, and ten minutes short. An open discussion with other panelists and the audience follows. This gathering is NOT a venue for academic/critical papers; writers make up the audience, some of whom may not be academics.
The APWT also enjoins participation in its literary readings/performances. Writing workshops will also be offered, details to be available later.
Suggested topics include, but are not limited to:
Literature in a time of terror
Taboo and transgression
Writing violence, writing trauma
Writing across disciplines
Writing within/without/beyond the canon
Regional literature
Transmedial translation
Translating Westward, translating in-country
The writing life
Publishing outside the center
Powerpoint is discouraged.
Please submit your proposal, in one or two paragraphs, about your chosen topic and how specifically it can connect to our theme. This will enable us to place you in a panel of similar topics. The broader and more relevant the appeal, the more likely the acceptance of your proposal. The organizers may request modification of your proposal for a more effective and interesting fit.
Please also send a bionote (80 to 150 words) and a high-resolution photograph for the gathering's program.
Deadline for submission of proposals is on 30 June 2015.
Please direct all submissions and inquiries, subject headed PRESENTATION PROPOSAL or NON PANELIST REGISTRATION INTEREST to apwt2015@gmail. com.
All participants are reminded that the APWT has no funds for travel and lodging of participants, and has traditionally subsisted on the private initiative of its members. You are encouraged to seek sponsorship for your participation.
Conference Fee
A modest fee will be collected to help sustain the association's other activities. The fees for resident nationals of the host country are always discounted:
Full 3 days: US$50 registration for APWT members; US$80 for non members.
One day: US$40.
You may opt to pay in US dollars or Philippine pesos at the current exchange rate through:
Landbank
UP Diliman E.O.
G/F Southeast Corner
Bulwagang Rizal Bldg
CAL, UP Campus
Diliman, Quezon City
Landbank Swift Code: TLBPPHMMXXX
Peso Account:
DECL Foundation Inc.
3071-0012-79
US Dollar Account:
Department of English and Comparative Literature Foundation Inc.
3074-0022-76
Registration for Non-panelists
Please register your interest if you would like to only attend the gathering.
Formal Letter of Invitation
We will send individual letters of invitation upon acceptance of your proposal, or upon request if you require this to apply for funding.
Accommodations
We will provide a list of affordable hotels and their rates close to the conference venue.
---
A CENTURY OF GRACE: PARANGAL KAY N.V.M. GONZALEZ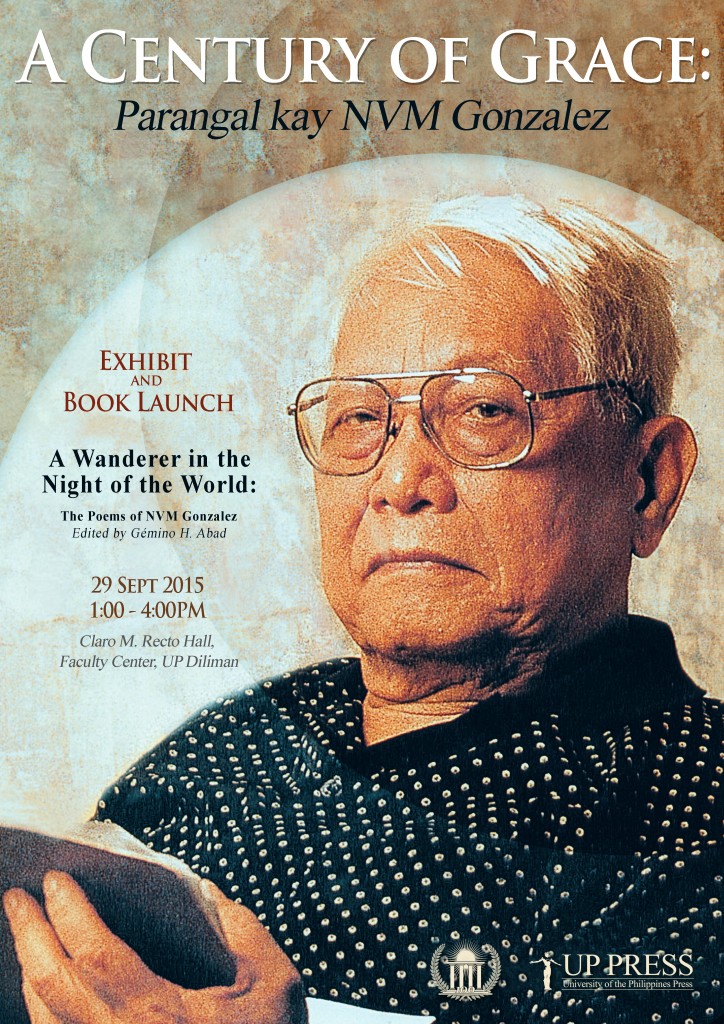 This year marks the birth centennial of National Artist for Literature N.V.M. Gonzalez. To celebrate his life and works, the University of the Philippines' Department of English and Comparative Literature will hold an exhibit and launch the collection A Wanderer in the Night of the World: The Poems of NVM Gonzalez on 29 September 2015 (Tuesday), 1:00 to 4:00 PM, at Claro M. Recto Hall, Bulwagang Rizal (Faculty Center), UP Diliman. Before he was recognized for his fiction, Gonzalez was first published as a poet. It is hoped that the exhibit and this book, edited by esteemed professor emeritus Dr. Gémino H. Abad, together with the exhibit, will introduce Gonzalez to a new generation of readers.
Nestor Vicente Madali Gonzales was a prizewinning writer, journalist, and teacher. He was born on 8 September 1915 in Romblon, Romblon. Gonzalez's most renowned works include the novels The Winds of April and The Bamboo Dancers, the short story collection The Bread of Salt and Other Stories, and the essay collections Work on the Mountain and The Novel of Justice: Selected Essays. His work is known for its distinct focus on the Filipino way of life. His awards include numerous Palanca Memorial Awards for Literature, the First Commonwealth Literary Contest in 1940, the Republic Cultural Heritage Award in 1960, the Gawad CCP Para sa Sining in 1990, and the Centennial Award for Literature in 1998.
Gonzalez taught at UP for 18 years. He fostered UP's creative writing community by holding the first writers' workshop at his home in Area I. He founded the Diliman Review and was a member of the board of advisers of Likhaan, UP's Creative Writing Center. He was also the first president of the Philippine Writers' Association. He was conferred an honorary doctorate from UP in 1987 and became its first international writer in residence in 1988. In 1997, he was named National Artist for Literature.
Gonzalez passed away on 28 November 1999, but his works continue to live on.
---
MANGA BY THE BARD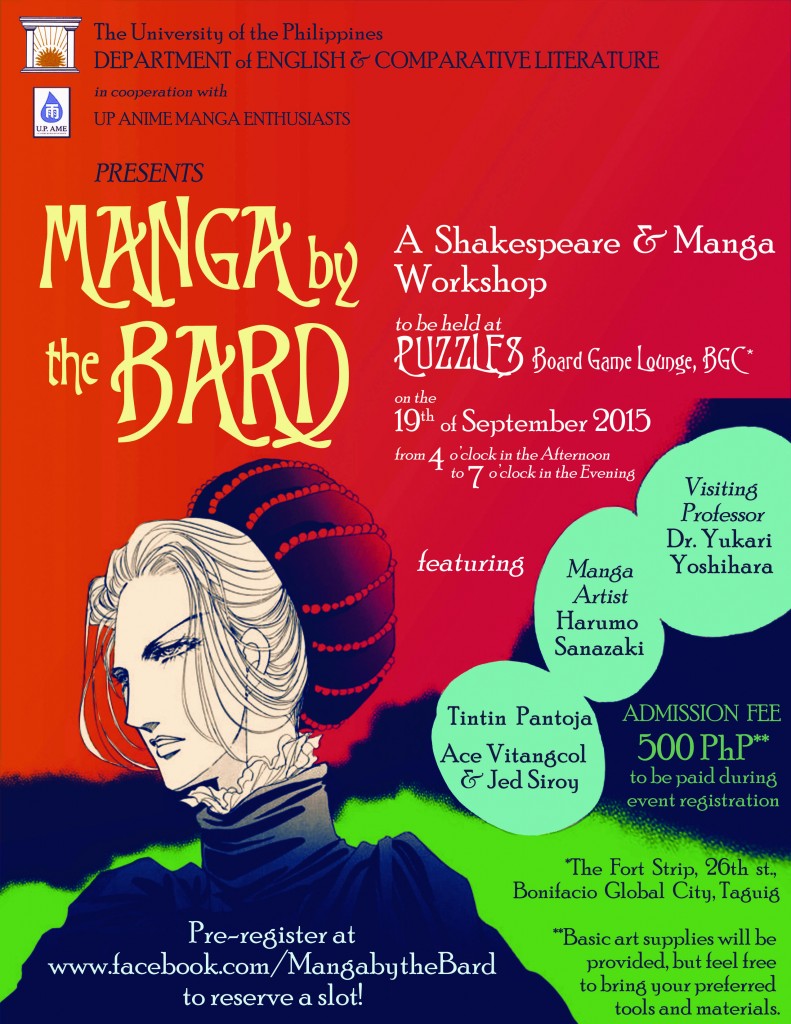 Culture and comics collide in Manga by the Bard, a Shakespeare and manga workshop featuring Shakespeare and manga specialist Dr. Yukari Yoshihara, and manga artists Sanazaki Harumo, Tintin Pantoja, Ace Vitangcol, and Jed Siroy.
Manga by the Bard will be hosted by the Department of English and Comparative Literature (DECL) of the University of the Philippines-Diliman.  The event will be held on Saturday, 19 September 2015, 4-7 pm, at Puzzles Board Game Lounge, Bonifacio Global City, Taguig.
Sanazaki Harumo is one of the most prolific Japanese manga artists with more than 300 manga books published by several publishers. She made her debut as a shôjo [girls'] manga artist from Akita Publishing in 1981, and has worked extensively for several leading publishers, creating romance, mystery, horror and historical fantasy manga. Her works include Angel Wars, Maihime Shichihenge [Quick Changes of a Dancing Girl], Tenshi no Ryôriban [An Angel's Chef], Abe no Seimei, and Asakusa Yangu Yôhinten [Young Shop of Mysterious Goods in Asakusa]. She has also created manga works based on films, operas, romance novels and stage plays. Sanazaki has had active intersts in Shakespeare's plays, and has so far created manga adaptations of Macbeth, Romeo and Juliet, and A Midsummer Night's Dream.
Ace Vitangcol and Jed Siroy have both worked on the romantic comedy manga series, Love is in the Bag.  Tintin Pantoja's works include Who is AC? and Hamlet: The Manga Edition.
The admission fee is PhP 500.00, which can be paid during registration at the event.
Visit this link to pre-register, or check out our Facebook page.
---
CALL FOR SUBMISSIONS: THE NEW VOICES ANTHOLOGIES OF POETRY AND FICTION
Attention, new writers: The Department of English and Comparative Literature of the University of the Philippines in Diliman is calling for submissions to New Voices, a two-volume anthology of poetry and fiction by new Filipino authors writing in English. To be published by the UP Press and possibly in cooperation with the Commission on Higher Education, these volumes will provide a platform for new writers to gain literary renown, as well as contemporize teaching materials for Philippine literature in English.
Current anthologies of Philippine poetry and fiction are edited and dominated by well-established writers who form the local literary canon. This practice makes breaking through the publishing and literary worlds difficult for newer authors, many of whom have only published individual poems or stories in magazines and journals. The New Voices anthologies seek to draw attention to a new generation of Philippine writers by filling a gap between the authors' publication of individual poems or stories in periodicals, and the publication of their first book.
New Voices will feature approximately 15 poets and 10 fiction writers. The selection process will begin immediately after the deadline and end by May 2015. Authors of accepted manuscripts will be notified as soon as the selection process is completed.
The submission guidelines are as follows:
The call is open to new writers of any age who are Filipino citizens holding permanent residence in the Philippines.
A "new writer" is one who has yet to publish a book (sole authorship) in the specific genre for which he or she is submitting a manuscript. A book that comes out before the deadline of submissions for New Voices will disqualify its writer.
Each qualified writer may submit only one manuscript file for each genre. For poetry, the submission file should consist of seven to 10 poems, or the equivalent of 10-15 pages in book form. For fiction, the set of submissions should consist of three to five stories, or a total of around 10,000 words, or the equivalent of 15-20 pages in book form.
There is no prescribed style or theme for the submission contents, but they should represent the author's skill and range, and as such may or may not have been previously published. If published, however, provide the bibliographical information.
All poems should be pasted in the preferred order, single-spaced, into one document file; the same goes for short story submissions. The prescribed font types are Times New Roman, Garamond, Arial, or Calibri, standard font size 12. Please include a short profile or bionote of no more than 300 words on the last page of the document.
Only online submissions will be considered. The document file to be attached should be in .doc, .docx or .rtf, and labeled with the author's last name and the title of the first poem or story in the submission (e.g. Arcellana THE YELLOW SHAWL.doc). The filename should also be indicated in the e-mail's subject line.
The deadline for submissions is 11:59 PM, Philippine Standard Time, on April 1, 2015.
The editors reserve the right to edit any and all materials accepted for publication.
For inquiries and submissions, contact the editors at newvoicespoetry2015@gmail.com or newvoicesfiction2015@gmail.com. Please specify "inquiry" or "submission" in the subject line.
---
2015 AMELIA LAPENA-BONIFACIO LITERARY AWARDS: JAN. 30 DEADLINE
The deadline for the Amelia Lapena-Bonifacio Literary Awards has been EXTENDED TO JANUARY 30, 2015, AT 5:00 PM. All undergraduate and graduate students currently enrolled for the Second Semester, AY 2014-2015 are invited to submit. Current faculty members of the English Department are not eligible for this award.
Authors may submit works of poetry, fiction, creative non-fiction, or critical essays for this award. For each category, the First Prize will be awarded PhP 5,000; Second Prize, PhP 3,000; Third Prize PhP 2,000.
The full list of rules and regulations may be found at the Department of English and Comparative Literature (DECL), 1/F College of Arts and Letters, Faculty Center, UP Diliman, or downloaded here.
---
UP DILIMAN TO HOST ASIAN TRANSLATION CONFERENCE
 
From October 23 to 25, 2014, the Department of English and Comparative Literature of the University of the Philippines in Diliman will host the 6th Asian Translation Traditions International Conference (ATT6). The conference seeks to explore translation theories and methodologies arising from the specific historical and contemporary contexts of Asia. ATT6 features eminent speakers and academics such as Resil Mojares of the University of San Carlos in Cebu City, Anis Nor of the University of Malaya, Harish Trivedi of the University of Delhi, Judy Wakabayashi of Kent State University, and Lawrence Wong of the Chinese University of Hong Kong.
The conference is open to teachers, students, academics, researchers, translators, and anyone interested in translation studies. For those who are interested in participating in the conference, the registration fee is 5000 PHP, which covers a conference kit, one conference dinner, and morning snacks, lunch, and afternoon snacks for the duration of the conference. The deadline for registration is October 15, 2014. For further information about the conference, kindly visit the ATT6 official website or Tumblr. For questions and inquiries, please email asiantranslation6@up.edu.ph.
The Asian Translation Traditions (ATT) conference series began in 2002 with the aim of challenging the Eurocentric emphasis of translation studies. The conferences have since been held in Hong Kong, India, Turkey, and the United Arab Emirates.